Lowe again questions Warriors' attitude

NZ Newswire
26/04/2016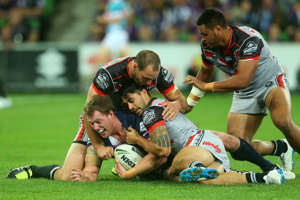 © Graham Denholm/Getty Images Tim Glasby of the Storm is tackled during the round eight NRL match between the Melbourne Storm and the New Zealand Warriors at AAMI Park on April 25, 2016 in Melbourne, Australia Former Kiwis coach Graham Lowe has repeated his belief that a poor attitude is behind the Warriors' failure to live up to expectations in the NRL.
The Warriors' 42-0 Anzac Day thumping by the Melbourne Storm has left them languishing in 13th place with a 3-5 win-loss record.
Lowe highlighted the Warriors' defensive effort against the Storm, who ran in eight tries.
A one-time part-owner of the Auckland-based club, he didn't resile from his controversial comment in March when he blamed a "bro culture" for their predicament.
"By that I mean, don't worry, be happy," he said on Tuesday.
"When they are hard on defence on their goal line, alarm bells should be going everywhere.
"There should be a lift in intensity that you should notice, but you didn't notice any lift at all."
Lowe said it was a real concern if players did not carry out instructions.
"I think there is a poor attitude within the place," he said.
"Put last night's game to one side; they haven't been playing well in any case.
"They haven't really played consistency well for a year, so that's not a flash in pan."
The Warriors' start to the season follows an eight-match losing streak to end 2015 and continues the pressure on coach Andrew McFadden.
Asked if a change of coach was the answer, Lowe: "It's probably not as straightforward as that.
"They have to look at the whole picture."
Owner Eric Watson last week again backed McFadden after the Warriors beat Canterbury in Wellington.
"We've got a great management team and we've got a coach and coaching team that all the players respect and are playing for," he said.
Watson urged patience, saying there was no point in chopping and changing.
"We've had to do that from time to time because we just haven't been happy with what we've had," he said.
"But we're pretty happy right now with what we've got."