Magic beat Mystics to make NZ final

NZ Newswire
10/07/2016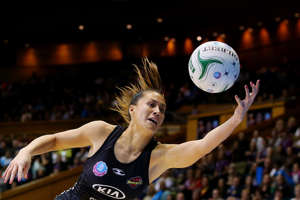 A big first-quarter and a dominant finish have carried the Waikato Bay of Plenty Magic to a 63-47 win over the Northern Mystics and into the last four of the trans-Tasman netball league.
The Magic's victory came in a niggly clash in Hamilton on Sunday, with several players getting warnings.
It sets up a New Zealand conference final against the Southern Steel, the only unbeaten side in this year's ANZ Championship, in Invercargill next Sunday.
The Magic had downed the Mystics in two close clashes during the regular season, and the start of the elimination final at the Claudelands Arena was a tight one.
The teams were level midway through the first quarter, before the Magic pulled clear with a five-goal run.
They were helped by their defensive pressure, with goal keep Kristiana Manu'a and mid-courters Jamie-Lee Price and Courtney Tairi making their presence felt.
The home side pushed their advantage out to 17-10 at quarter time, leading Mystics coach Debbie Fuller to make raft of changes.
They included benching England centre Serena Guthrie, who was on a caution, and inserting goal keep Temalisi Fakahokotau, who brought her usual energy.
But as much as they tried, the Mystics couldn't get closer than within five goals over the middle two quarters, before the Magic pulled away in the final stanza.
England international Jo Harten top-scored with 44 from 48 attempts, while her partner in the Magic shooting circle, Ellen Halpenny, proved a good foil as she landed 19/21.
For the Mystics, Cathrine Tuivaiti landed all 22 of her shots, while skipper Maria Tutaia ended with 19/27.
For the Auckland-based side, the defeat was compounded by what looked like a serious knee injury to midcourter Nadia Loveday, who fell awkwardly during the third quarter.