Magic have belief they can topple Steel

NZ Newswire
17/06/2016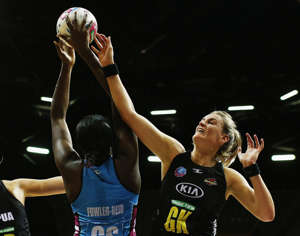 Skipper Leana de Bruin says there's plenty of belief within the Waikato Bay of Plenty Magic as their winning streak goes on the line against the unbeaten Southern Steel.
After losing their first five games in the trans-Tasman netball league, the Magic have won five straight to secure a spot in the play-offs for the ninth straight year.
They now take on the Steel, and former Magic coach Noelene Taurua, in Invercargill on Sunday, but de Bruin is unfazed by the challenge.
"The belief in our side is definitely there," she said.
"I think the main thing is everybody is going to have to be on their A game. It's going to be a tough encounter but I believe we can do it."
De Bruin will have the hardest assignment, marking Jamaican shooter Jhaniele Fowler-Reid, who is leading the competition this season with 527 goals and scoring at just under 90 per cent.
However, she said the Magic couldn't afford to concentrate on just Fowler-Reid.
"We have to do the work outside the circle and really get into the feeders' heads rather than worrying about Jhaniele, which is easier said than done," she said.
"I need to play smart. My job is to keep her busy and out of the game and make life really hard for her by creating lots of pressure, and leading the team by having a good game myself.
De Bruin, who turns 39 next month, remains committed to playing another season with the Silver Ferns in the hope of wresting the Constellation Cup off Australia.
She remained passionate about netball and rated herself as being in probably the best shape of career.
"I've made good gains in the fitness department since recovering from my ankle injury," she said.
"I would love to put on the black dress again if the opportunity comes up, but at the moment I'm just focusing on finishing this competition well."