Mainfreight flags lower revenue levels

NZ Newswire
12/10/2016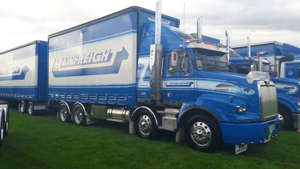 © Facebook/Mainfreight Mainfreight Mainfreight, the transport and logistics group, has warned investors first-half revenue will be less than expected due to falling ocean freight rates hitting billing levels.
In slides published to the NZX as part of an investor day held at its Epping base in the Australian state of Victoria, Mainfreight estimates revenue will be between $1.15 billion and $1.17b in the six months to the end of September, compared to $1.11b in the same period a year earlier.
Earnings before interest, taxation, amortisation and depreciation are expected to be between $85-and-$87 million compared to $71.6m in 2015, with a net profit of $41-to-$43m compared to $33.1m.
Mainfreight said results from New Zealand had been stronger than expected, while results in Europe, Australia, and Asia had improved. The United States operations had improved, but "not markedly".
The comparable period in the previous year was poor for Mainfreight, with its full-year results rescued by a focus on cost control and improved margins in the second half of the year.
It's half-year results will be published on Nov 9.
Shares of Mainfreight rose 0.2 per cent, or 3 cents, to $18.03. They're up 15 per cent since the start of the year, outperforming the broader NZX50 which has increased 13 per cent.