Man arrested, Parliament in security lock down

Radio New Zealand
26/05/2016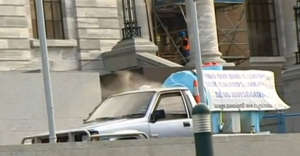 A man was arrested and Parliament locked down after a suspicious vehicle drove on to the forecourt.

Gates were locked and people were prevented from leaving due to the vehicle, which parked up right outside Parliament.
A single truck - which was smoking - drove onto the grounds shortly before midday.
A subsequent threat at the rear of Parliament buildings was also investigated.
Police have cleared the vehicle which is cordoned off and the public are not being allowed near it.
People were told to keep away from the windows and were not allowed to leave the building.
The lock down and all restrictions at Parliament have now been lifted and police are letting the public back onto the grounds.
The incident happened as Bill English prepared to deliver the Budget this afternoon.
Police have confirmed that a man was arrested. MPs said people were seen running away from the ute as it pulled up onto Parliament's forecourt.
A witness said he saw the man try to light a flare in the ute, which had a tank on the back, and was adorned with a banner protesting about ANZ Bank not being investigated.
The banner on the other side of the tank read "John Key! Move the gatekeepers. They're harbouring corruption. Blocking access to the ANZ Bank".
This has shown up on the forecourt of parliament and it looks like the person driving it was just arrested pic.twitter.com/VqVn9NQAec

— Jacinda Ardern (@jacindaardern) May 25, 2016