Man facing gunman, continues serving

NZ Newswire
8/07/2016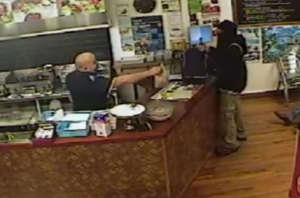 When a gunman walked into a Christchurch takeaway demanding cash, owner Said Ahmed ignored him, handed a customer his kebab and then walked off.
The would-be robber was left standing at the till red-faced before walking out of the store with only the black handgun and empty bag he walked in with.
"The robber (was) struggling because he (didn't) expect my reaction - it was (an) unexpected reaction for him," Mr Said told NZ Newswire on Friday.
"He expected something like that he (would) scare me and I (would) give him money because he carried a gun.
"But in a second I controlled my reaction and I didn't show (I was) scared."
Mr Said's cool response has captured the hearts of many across New Zealand who watched CCTV footage of the attempted robbery after police posted it to Facebook in attempt to find the gunman.
The Egyptian Kebab House owner said continuing to serve the customer gave him the time he needed to collect his thoughts and work out how he was going to handle the frightening situation.
"From my heart I was worried, scared but you know I said to myself: 'I have to walk away'," Mr Said said.
His main concern was that the man would shoot him at close range or hurt one of his staff or a customer who was enjoying a kebab at a nearby table.
In the 20 years Mr Said has lived in New Zealand - 15 of which he has owned kebab stores - he has never been threatened or robbed.
He said lessons from his, at times, violent homeland Egypt and the peace he'd experienced while in New Zealand helped him keep calm.
The incident happened on May 28, but police say the CCTV footage was released this week as they only recently got their hands on it.
Within 24 hours of the video being uploaded it had been viewed more than 30,000 times and hundreds had shared it with their friends.
"Imma let you finish robbing me in 2 secs I just gotta get this order out," Annelei Dowling commented on the footage.
While Ange Linton said: "This has got to be the most chill chip chip operator ever! High five".