Man stabbed 'after confronting little girl wearing clown mask' in Portsmouth

Mirror
28/10/2016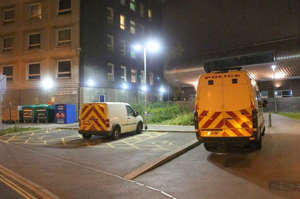 © UK News in Pictures Man stabbed 'after confronting little girl wearing clown mask' in Portsmouth A man has been stabbed after allegedly confronting a little girl wearing a clown mask .
The victim was rushed to hospital following the attack, which happened at around 8.30pm in the centre of Portsmouth.
The man was treated by paramedics at the scene in Sedgley Close, Somerstown.
He was then taken to Queen Alexandra Hospital where his injuries are not thought to be life-threatening.
The incident is believed to have been sparked by a row between the victim and a nine-year-old girl.
Witnesses said the child, who was wearing a clown mask, and her family had returned from a local Halloween party at the local community centre.

A resident, who asked not be to named, said she lived on the thirteen floor of Edgbaston House, in Sedgley Close.
She said she heard a woman screaming the little girl's name after the man allegedly lashed out at the youngster.
It is claimed the mum fled with her children before returning with two men, who allegedly stabbed the victim .
© Provided by Trinity Mirror Plc Credits: PA

A spokeswoman for South Central Ambulance Service said: "We sent a rapid response vehicle and ambulance crew to treat and adult male who sustained non life-threatening injuries.

"He was taken to Queen Alexandra Hospital for treatment.
"Edgbaston House has been sealed off by detectives while officers scoured the scene for clues to the attack."
Hampshire Constabulary has been approached for comment.