Maori children deserve justice: Devoy

NZ Newswire
1/03/2017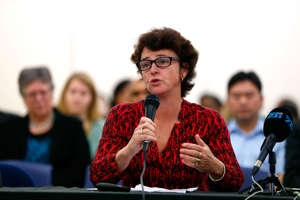 © Phil Walter/Getty Images Dame Susan Devoy New Zealand's race relations commissioner is backing calls for an inquiry into the abuse of children in state care, saying it disproportionately affected Maori families.
Dame Susan Devoy says the taking of Maori children from their families for no reason or for trivial reasons was the "definition of institutional racism".
"Without an inquiry into the abuse suffered by children in our state run homes we will never know its true extent," Dame Susan said in a statement on Thursday.
The government has ruled out an inquiry, but is facing increasing calls for an investigation into the full extent of the abuse of children and vulnerable adults in state care, dating back to the 1950s.
The Human Rights Commission and opposition leader Andrew Little are among those backing it.
Dame Susan said many Maori youngsters taken into state care in the past were physically and sexually abused, with damaging repercussions.
"We know more than 100,000 children and vulnerable adults were put into care over 40 years," she said.
"The first homes opened in the '50s and by the '70s, almost half of all kids in state care were Maori."
"Today Maori New Zealanders make up more than half of our total prison population, a damning indictment on a system."
She cited one man's story, who was first made a state ward as a young boy for stealing lollies.
While in care, his parents died and he was physically and sexually abused and spent months in a single cell.
He was later sent out to a series of strangers who also abused him, before spending his life in and out of prison and only making contact again with his whanau in his old age.
"[These] children deserve justice and all New Zealanders deserve to know what went on," Dame Susan said.