Maori King stirs up strife

NZ Newswire
9/03/2017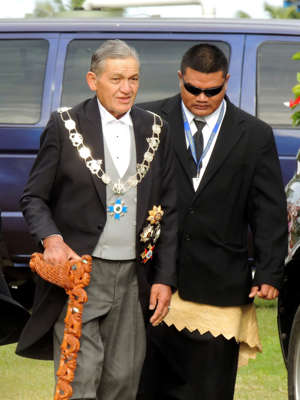 The Maori Party is confident it can beat Labour's Nanaia Mahuta in the Hauraki-Waikato seat now the Maori King has endorsed its candidate.
In an unusual move, King Tuheitia on Thursday said Ms Mahuta, who has held the seat for 18 years, had no mana in parliament and should step aside.
He endorsed iwi leader Rahui Papa for the seat, and he'll be standing for the Maori Party.
King Tuheitia caused controversy in August when he said he wouldn't again vote for Labour and was supporting the Mana and Maori parties.
Mr Papa is one of his advisers.
Maori Party president Tukoroirangi Morgan, a former adviser, says the king's endorsement is a game-changer.
"Nanaia Mahuta has achieved very little in her position as a Member of Parliament for the Labour Party representing Hauraki-Waikato," he told RNZ on Friday.
"The winds of change are blowing, the king has given his endorsement to Rahui Papa, the Labour Party will be no more - it's as simple as that."
Ms Mahuta has brushed off the king's criticism of her performance in parliament and says his influence will be tested on September 23.
In the last election Ms Mahuta retained the seat with a majority of nearly 8000 votes.