Maori Party has another crack at Peters

NZ Newswire
22/09/2016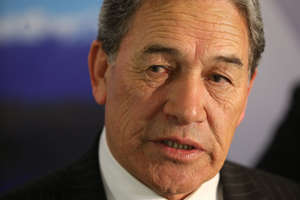 © Fiona Goodall/ Getty Images NZ First leader Winston Peters Maori Party co-leader Marama Fox has taken another crack at Winston Peters, accusing the NZ First leader of deliberately wrecking Parliament's plan to pass five treaty settlement bills on Friday.
She's still furious about the cancellation of the special sitting, which would have been attended by hundreds of iwi representatives.
Mr Peters is vigorously defending his party's refusal to accept a simple voice vote on the bills, saying it has the democratic right to oppose two of them which it says have unacceptable provisions.
That would mean full debates and vote counts, meaning most MPs and ministers would have to be in parliament.
Ms Fox says NZ First can't be trusted.
"If he called a conscience vote, or called a vote of no confidence in the government, people would have to fly back from all over the country ... those things could happen, he's just playing with the business of parliament."
"This is nothing but grandstanding, he's building up for the election and this is the start of it," an angry Ms Fox told reporters on Thursday.
"We had an agreement with them, two weeks ago, which meant the bills wouldn't be contentious, and then they turn around and do this."
The Friday sitting has been cancelled and the bills will go on parliament's agenda in the usual way for their third readings.
Treaty Negotiations Minister Chris Finlayson is in charge of the bills, and he's just as angry as Ms Fox.
"I expect there's going to be a lot more of this," he said.
"Every time I take a treaty bill to the House between now and the close of parliament some time next year you can expect him to say I'm a bleeding heart liberal who has sold out to Maori.
"I could write the speeches."