Market moves on, unfazed by PM change

NZ Newswire
6/12/2016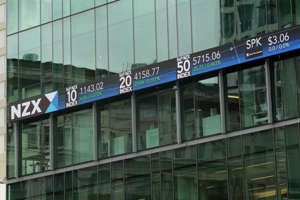 © chameleonseye/iStock Editorial/Getty Images NZX in Auckland New Zealand New Zealand shares rose, led by Kathmandu Holdings and Fletcher Building, with investor confidence not dented by political turbulence following Prime Minister John Key announcing his intention to resign on Monday.
The S&P/NZX50 Index gained 55.66 points, or 0.8 per cent, to 6,910.37. Within the index, 32 stocks rose, 12 fell and seven were unchanged. Turnover was $133.1 million.
"There are no discernable market changes to the political changes here, status quo expectation is policy as usual," said Matt Goodson, managing director at Salt Funds Management.
"The market hasn't factored in the very slight chance there could be some sort of split in the National caucus, and it's probably too early to factor in the next election and any impact on those as yet."
Kathmandu Holdings led the index, up 3.8 per cent to $1.90, while Fletcher Building gained 2.9 per cent to $10.42 and Tegel Group Holdings rose 2.7 per cent to $1.55.
SkyCity rose 0.5 per cent to $3.85. New Zealand's dominant casino company has named John Mortensen to the new role of group chief operating officer.Tilt Renewables was the worst performer on the index, down 3.7 per cent to $1.80.
Fisher & Paykel Healthcare declined 2.3 per cent to $8.20 while Stride Property dropped 1.7 per cent to $1.79.
Trustpower fell 1.1 per cent to $4.44. The Electricity Authority is ending subsidies to power stations that are embedded in local electricity networks rather than connected to the national grid in a move the regulator says will save consumers around $25m to $35m a year, or $279m on a net present value basis.
"In essence this means Trustpower will receive less revenue than under the way the old costs were worked out - it had been widely expected this would be the case, but certainly a negative for Trustpower, " Goodson said.
Outside the benchmark, Scales Corp dipped 0.3 per cent to $3.49. The best-performing stock on the S&P/NZX 50 Index this year, it raised its forecast for annual earnings with the apple company citing improvement across all its divisions and a standout performance from its horticulture unit.
"It's quite a sharp upgrade, really a favourable confluence of harvest volumes, harvest quality and apple prices, particularly in Asia," Goodson said.
Hellaby Holdings gained 0.6 per cent to $3.46 while ASX-listed Bapcor gained 0.3 per cent to $A5.005.
Delegate Group was unchanged at $5.80 after saying it will need to increase prices of its wines in the UK because of the falling pound.