Marvel corrects Avengers: Endgame poster after slighting Danai Gurira
Digital Spy (UK)
14/03/2019
Even Marvel makes mistakes, and that's definitely what happened with the new Avengers: Endgame poster.
The poster showed off 13 key characters – including Robert Downey Jr's Tony Stark, Chris Evans' Captain America, and Brie Larson's Captain Marvel – but only 12 names of the credited actors appeared at the top.
The missing star was Danai Gurira, whose character Okoye could be clearly seen on the right side of the poster.
Instead, her name appeared at the bottom, hardly readable and alongside Benedict Wong and Jon Favreau, two actors whose characters (Wong and Happy Hogan) aren't in the poster.
Many Marvel fans have been using social media to make clear their dissatisfaction of the omission of Gurira's name from the top, pointing out that even Bradley Cooper, who provides the voice for Rocket Raccoon, has his name prominently featured.
You can check out some of the reactions below:
Black women always get the short end of the stick. Why isn't @DanaiGurira's name on here but everyone else's is? Literally everyone else but her. Tf?! 😒 https://t.co/zWeciVk4W2

- xoNecole (@xonecole) March 14, 2019
she is the only black woman on that poster, the highest profile post-snappening wakandan, a firm fan favorite, and freaking actual DANAI GURIRA to boot. put some respect on her name, damn.

- Bim Adewunmi (@bimadew) March 14, 2019
BLACK PANTHER star Danai Gurira is the only actor pictured whose name isn't billed at the top. Her image is larger than some actors who do get that billing. The only one from the franchise's best and most profitable movie, and yet? @MarvelStudios, this isn't difficult. Fix this. https://t.co/22miymysgj

- Jamil Smith (@JamilSmith) March 14, 2019
I mean, they've got Bradley Cooper's name in there and he's just the VOICE of Rocket. Danai Gurira is the ONLY person on the poster not to be listed by name. https://t.co/zPUVRQBrDf

- Christopher Golden (@ChristophGolden) March 14, 2019
Marvel, why is Danai Gurira's name not on the top of this poster?

This is Okoye's third MCU movie and yet she's the only person on the poster without a name up there?

Not cool, Marvel.

- Elaine (@Sundancer) March 14, 2019
Everyone on the poster, has their name on the top except Danai Gurira, why????????????!!!!! https://t.co/TaYTRMPY1G

- Nam (@namanlemon) March 14, 2019
Marvel quickly realised the error of its ways and released a revised posted with Danai Gurira's name up top. The studio admitted that's where her name "should have been" from the beginning.
She should have been up there all this time. Check out the official Marvel Studios' #AvengersEndgame poster. @DanaiGurira #WakandaForever pic.twitter.com/5V1veWMxlz

- Marvel Studios (@MarvelStudios) March 14, 2019
Elsewhere, the Avengers: Endgame trailer seems to confirm that Iron Man and Nebula make it safely back to Earth.
And the Avengers are sporting snazzy new red and white costumes, leading to speculation on whether their outfits serve a special function.
There may also be a hint that the Hawkeye mantle will be passed on to somebody new, as Clint Barton (Jeremy Renner) is seen practising archery with somebody who could be fan-favourite comics character Kate Bishop. (Or maybe it's just Clint's daughter.)
Avengers: Endgame will be released on April 25 in the UK and on April 26 in the US.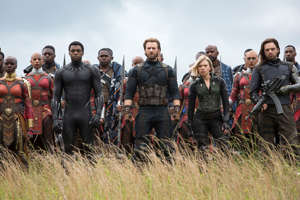 RELATED: Avengers Endgame - What we know so far