Masked man holds woman at gunpoint

NZ Newswire
31/03/2017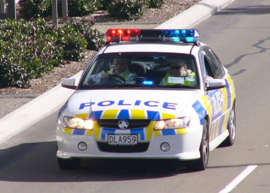 Christchurch police are on the hunt for a masked man who allegedly put a gun to a woman's head in public.
Police say the woman had what is believed to be a gun pressed against her head by the man on Riccarton Avenue, near the Cricket Oval, at about 6am on Saturday.
She screamed and managed to pull away before the man - in a beige, "Halloween-type" mask - ran off, Senior Sergeant Vaughn Lapslie said.
The man has been described as in his 30s or 40s, slim and 160cm tall with dark hair.
"At this stage, this is being treated as an isolated incident and officers are focused on catching the man responsible, Snr Sgt Lapslie said.
Police are appealing for information and say the man was wearing a grey hoodie, dark trousers and was carrying what appeared to be a small, dark firearm.