Meet The 11 New Startups Launching At AngelPad's Spring Demo Day

TechCrunch
18/04/2014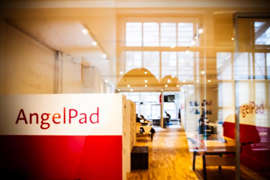 , the San Francisco-based startup accelerator founded by early Googler and tech investor Thomas Korte, is holding demo day for its Spring 2014 class in San Francisco today.
Since its inception back , AngelPad has established itself as a top player in the ever-expanding field of tech incubators. Now with operations in New York City (AngelPad's brand new NYC office is pictured here) and its native San Francisco, the organization steadily graduates about a dozen companies in each batch, with solid alumni success stories including MoPub, which was acquired by Twitter last fall for , and Crittercism, which has raised a . AngelPad itself has kept its operations lean and mean: The firm was self-funded up until this past fall, when it raised a round from a small group of individual investors.
This afternoon, eleven startups focused on a wide-ranging set of capabilities are set to make their debuts to a roomful of investors, tech executives, and media. TechCrunch will be on hand at the event too, and no doubt there will be more to say about these startups in the days ahead — but for now, without further adieu, here is a list of the newest batch of startups to get their AngelPad "wings":
: A web infrastructure monitoring platform founded by ex-Google engineers who previously developed analytics tools used internally by the Google Apps team. Hiveary promises to provide "predictive, contextual, and collaborative" alerts.
: Founded by Rapleaf's former VP of product and VP of engineering, TapFwd is a big data mobile ad platform that brings together offline and online data to improve mobile ad targeting.
: A software platform for enterprises aimed at "managing and improving" team performance. PeopleGoal says it's on track to pilot its platform with 12 companies totaling more than 20,000 employees.
: Arthena is an investment platform with a focus on the fine arts, aiming to give accredited investors access to co-invest with art world leaders. The founder's resume includes work at the Smithsonian, the Guggenheim, and Amazon Art.
: A research and communication platform for physicians, nurses and other healthcare professionals.
: A business-to-business platform targeted at helping create streamlined workflows at medium- to large-sized enterprises. The company has signed up customers including paint corporation Benjamin Moore.
: A mobile-first car valet service for large cities and airports.
: is a mobile communication platform aimed at providing top recommendations from trusted social networks.
: Founded by a team of brothers who are alums of both Oxford and Goldman Sachs, Seed.jobs is an inbound marketing platform for talent acquisition.
: A marketplace for home and office painting, Paintzen currently has a revenue run rate of over $1 million.
: A platform for businesses to get sales and marketing tasks completed online by US college graduates.
Our own Leena Rao sat down with AngelPad founder Thomas Korte this past fall to talk all about the organization's growth and plans for the future. Check that out in the video embedded below: