Meridian expectations push NZX 50 sky high

NZ Newswire
17/05/2016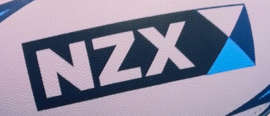 © Twitter / NZX Limited Meridian expectations push NZX 50 sky high New Zealand shares rose, pushing the S&P/NZX 50 Index to a new record on expectations Meridian Energy will be a key beneficiary of proposed changes to electricity transmission charges.
Ryman Healthcare gained to an all-time high ahead of its full-year results on Friday while New Zealand Refining dropped after reporting a slimmer refining margin.
The NZX 50 rose 60.74 points, or 0.9 per cent, 6974.8. Within the index, 28 stocks gained, 11 fell and 11 were unchanged. Turnover was $157 million.
Meridian, whose major customers include the Rio Tinto-controlled aluminium smelter at Tiwai Point, rose 3.7 per cent to $2.82. Contact Energy rose 1.1 per cent to $5.35.
The Electricity Authority released proposals to overhaul national grid charges which would yield the biggest decrease to South Island generators who would no longer be required to carry all of the $150 million a year costs of the HVDC link across Cook Strait.
"Meridian and Contact are both firmer on that," said Grant Williamson, a director at Hamilton Hindin Greene. "Meridian is the major winner there. It's going to assist their earnings and dividend payments." For North Island-based Mighty River Power "it's slightly unfavourable."
Mighty River Power dropped 2.3 per cent to $3.01. TrustPower rose 0.9 per cent to $7.84 and Genesis Energy climbed 0.2 per cent to $2.12. Vector rose 0.6 per cent to $3.42 even though the Electricity Authority presentation showed it would face some of the steepest increases in charges under the proposed changes.
Steel & Tube Holdings gained 3.7 per cent to $2.25, leading the market higher.
Ryman rose 3.1 per cent to $9.70 and has increased 11 per cent this year, Metlifecare gained 2.1 per cent to $5.80 and Summerset Group Holdings rose 1.6 per cent to $4.59.
Infratil rose 0.8 per cent to $3.31. Fisher & Paykel Healthcare gained 3.4 per cent to $9.97 and Xero extended its gains, rising 2.9 per cent to $17.93.
Trade Me Group rose about 2 per cent to $4.70 and Spark New Zealand gained 1.8 per cent to $3.67.
Sky TV rose 1 per cent to $4.04.
NZ Refining fell 6.8 per cent to $2.60 and was the biggest decliner on the benchmark index.
Orion Health Group fell 2.9 per cent to $4.76.