Michael Hill ready to bling Christmas

NZ Newswire
10/10/2016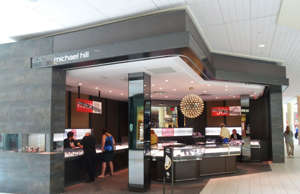 © File photograph A Michael Hill store. Michael Hill International, the jewellery chain business founded by its namesake, delivered 6.8 per cent sales growth in the three months to Sept. 30 as it gears up for the busy Christmas period.
Group sales from all stores rose to A$120.2 million ($NZ127.4m) in the first quarter of Michael Hill's financial year, from A$112.5m ($NZ119.3m) in the same quarter in 2015.
Same-store sales grew 2.8 per cent to A$114m ($NZ121m) in the three months.
The company now has two brands, Michael Hill and Emma & Roe, having moved the latter from trial phase into growth mode in the current financial year.
Michael Hill same-store sales rose 2.8 per cent to A$112.6m ($NZ119.4m) in the first quarter, while Emma & Roe same-store sales gained 1.5 per cent to A$1.4m ($NZ1.5m).
Total store sales for the Michael Hill chain increased 5.9 per cent to A$117.5m ($NZ124.6m) in the quarter, while Emma & Roe total sales jumped 72 per cent to A$2.7m ($NZ2.9m) in the period.
"The first quarter is not a crucial period for the business or for our full year results, but the results achieved across both brands were a satisfactory outcome," chief financial officer and acting chief executive Phil Taylor said.
"The Christmas period is the most critical quarter for the group's financial year result."
There were 300 Michael Hill stores trading at the end of September, and the company plans to open five more before Christmas and nine in the second half of the financial year.
Emma & Roe had 20 stores open at the end of the quarter, with four more to be opened before Christmas and at least four in the second half, the company said.
The dual-listed shares were unchanged at $1.73 on the NZX.