Mike Judge And The Stars Of HBO's 'Silicon Valley' Will Join Us At Disrupt NY

TechCrunch
16/04/2014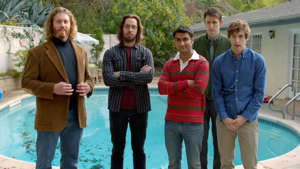 It was just a few months ago that Mike Judge and a team of writers working on the storyline for his then-upcoming Silicon Valley TV show sat backstage with members of the TechCrunch team at Disrupt SF. Judge and his posse were there on a reconnaissance mission, seeking to learn as much as they could about the types of startups that compete at events like ours.
Little did we know that TechCrunch would become a key plot point in the series, as the team from Pied Piper enters the Disrupt Startup Battlefield for a chance to win $50,000 and join the ranks of startups like Mint, Dropbox, and Yammer who went on to great things.
We're so pleased to be a part of the story that we've invited Mike Judge back to Disrupt, but this time we've asked him to join us onstage to discuss what he learned in the making of the show, and why Silicon Valley is rife for his kind of comedy.
NOTE: Disrupt general admission tickets are jumping by $1,000 next week. Save some cash and while they're still on sale.
Judge will be bringing along co-conspirator Alec Berg, who is an executive producer and writer on the show. We'll also welcome Thomas Middleditch, who stars as Pied Piper founder and CEO Richard Hendricks, as well as T.J. Miller, who plays the surly "incubator" head Erlich Bachman.
The timing is perfect, too. Disrupt NY kicks off on May 5 and runs though the 7th — just as the fictional startup on 'Silicon Valley' prepares for Disrupt on the show.
Tickets to the real Disrupt as well as spots for startups to exhibit in Startup Alley.
Here's a sneak peek at the next episode of 'Silicon Valley'.