Mixed response from SPCA on new rules

NZ Newswire
10/06/2016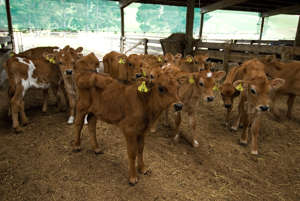 © Paul Nevin/Photolibrary/Getty Images Bobby calves, South Otago, New Zealand New rules around the treatment of bobby calves don't go far enough, SPCA NZ says.
There was uproar over the treatment of bobby calves when animal welfare group SAFE went public in November with a video showing bobby calves being thrown, kicked, beaten and dead in cages.
Primary Industries Minister Nathan Guy announced new rules on Friday which he said would strengthen existing regulations. They will be in place before the spring calving season.
Ric Odom, chief executive of SPCA NZ, says MPI has missed an opportunity to go further to protect these vulnerable animals.
"We applaud MPI for banning transportation of bobby calves across Cook Strait, requiring bobby calves to be able to walk on and off transport trucks under their own power, and ensuring shelter to protect bobby calves from adverse weather, including extremes of heat and cold."
These are excellent initiatives that will do much to improve the welfare of bobby calves, he says.
"However, we are disappointed that MPI hasn't increased the age at which bobby calves can be transported."
The SPCA says bobby calves should be at least 10 days old before being transported.
"We also believe that bobby calves should be slaughtered within eight hours of being fed, not 24 hours as stipulated by the MPI regulations."
Aside from these areas of contention, the SPCA was generally supportive of MPI's effort, he said.