Mixed start for Kiwis at bowls worlds

NZ Newswire
29/11/2016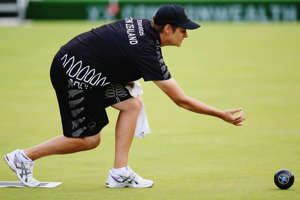 Commonwealth Games singles champion Jo Edwards suffered an opening day loss at the bowls world championships but recovered to record an identical record to her New Zealand colleagues in Christchurch.
All four Kiwi combinations notched two wins and a loss on Tuesday, including Edwards, a two-time pairs world champion who is yet to climb the singles dais at that level.
The 46-year-old notched wins over opponents from Kenya and Wales before going down 21-16 Canada's Kelly McKerihen, a bronze medallist in Adelaide four years ago.
McKerihen is the only unbeaten bowler in Edwards' 10-woman section while Ainie Knight of the Philippines and Scot Lesley Doig were both three from three in the other section.
The six leading bowlers from section play in all classes advance to the sudden death phase on Friday, with finals on Sunday.
The Val Smith-skipped Kiwi women's four opened with a 17-14 loss to Singapore before notching comfortable wins over South Africa and Australia. Wales and Ireland are unbeaten in the section.
In men's competition, New Zealand pair Shannon McIlroy and Mike Kernaghan beat Ireland and Malaysia but were shocked 17-13 by unheralded India.
The Ali Forsyth-skipped men's triple went down 19-9 to unbeaten Australia but beat Jersey and Canada.