Moana nominated for two Golden Globes

NZ Newswire
12/12/2016
Animated feature film Moana has been nominated for two Golden Globes.
Oscar-nominated film-maker New Zealander, Taika Waititi is behind the script about a Polynesian princess called Moana.
It's been nominated for Best Animated Motion Picture, and Best Original Song for a Motion Picture.
The film, which has topped ther US box office for three weeks, follows Moana's quest as she sails the Pacific Ocean in search of a fabled island, with help from Maui.
Maui is voiced by Dwayne 'The Rock' Johnson, and 16-year-old Auli'i Cravalho voices Moana.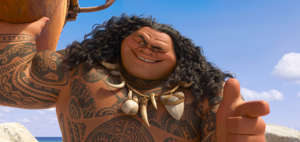 © (Disney via AP) This image released by Disney shows Maui, voiced by Dwayne Johnson in a scene from the animated film, "Moana." Disney's animated movie "Moana" debuted to critical acclaim and box office success over the Thanksgiving weekend, but some people in the South Pacific dislike how it depicts their culture. (Disney via AP)

Waititi has been behind some of New Zealand's most successful films including 2010's Boy and 2014's vampire hit What We Do In The Shadows. He was nominated for an Academy Award for his short film Two Cars, One Night.
The New Zealand premiere of Moana is at Syliva Park on Monday evening, and opens to the public on December 26.
The Golden Globes ceremony will be held in Beverly Hills on January 8.
The Oscar nominations will be announced on January 24 and the winners will be revealed on February 26 at the 89th Academy Awards.