More delays for Chch tram route

NZ Newswire
6/04/2016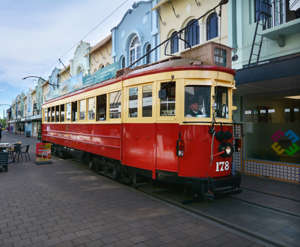 It will be a little while longer before trams return to Christchurch's historical New Regent St, damaged after the Valentine's Day earthquake.
Barriers placed outside five privately-owned damaged buildings on the street are sitting across the tram tracks, forcing the Christchurch Tram company to take the street off its route.
Although it was anticipated trams would soon be returning to the street, the owner of the five affected buildings has found more structural issues that need to be fixed.
Christchurch City Council will meet with the owner and engineers this week to discuss how long the repairs will take.
Workers identified the building facades are not sufficiently reinforced, but are working to find a solution, council spokesman Robert Wright says.
It was unfortunate the latest discovery meant the trams wouldn't return to New Regent St just yet, he said.
"People are relying on us to make sure the street is safe, and we need to make sure the building owner does what is necessary to achieve that."