More new banknotes released

NZ Newswire
11/04/2016
The new $100 note
© Reserve Bank of NZ
Elizabeth, Apirana and Ernest have got new clothes and are about to join the party in your wallet.
Governor-General Sir Jerry Mateparae on Monday revealed the country's new $20, $50 and $100 banknotes, part of the seventh series of banknotes the country has traded with.
The $5 and $10 notes were released last year as the country starts to replace the note design which has circulated since 1999.
Queen Elizabeth II, Sir Apirana Ngata and Lord Ernest Rutherford continue to grace the $20, $50 and $100 notes but they are brighter, bolder and clearer.
They also incorporate the same four main security features, which are the holographic window, colour-changing bird, puzzle number and raised ink.
The new note will come into circulation from May 16, when banks and retailers can dispense them, either as cash withdrawals or change.
They are the same size and denomination and made of flexible polymer as the current banknotes, and they continue to be made of flexible polymer.
"Global banknote technology has advanced to a state where sophisticated design can be incorporated into a security feature to make the banknote both hard to counterfeit and visually appealing," said RBNZ governor Graeme Wheeler.
Despite increasingly becoming a cashless society, the RBNZ will likely continue to print more money each year.
Following worldwide trends, the total cash in circulation in New Zealand rose from about $1.5 billion in 1996 to nearly $5b last year.
The amount of cash in circulation had risen by about 4.6 per cent each year in the last decade, a RBNZ spokeswoman says.
It was partly to do with economic growth and following the global financial crisis more people wanted to carry cash, she said.
The biggest rise has been in $100 notes. Last year there were nearly five times as many in circulation, worth $1.8b, as there were in 1996.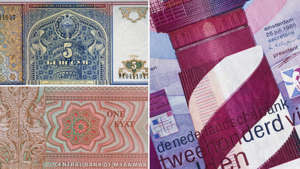 World's most beautiful banknotes