More passenger jets are arriving in NZ

NZ Newswire
17/01/2017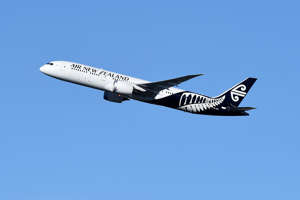 More passenger jets flying from Asia to Auckland has led to near record amounts of air traffic passing through New Zealand, the country's traffic controller says.
Airways New Zealand said there had been an 11 per cent increase in air traffic this summer compared to last year, and an 18 per cent rise on two years ago.
Jet movements alone rose rise by 9 per cent, or an extra 315 flights each week, with 57 per cent of these coming in and out of Auckland.
"Aside from a short spike during the 2011 Rugby World Cup, jet aircraft movements haven't reached these levels since 2008, ahead of the worst impacts of the global financial crisis," Airways chief executive Ed Sims said.
"The Asia-Pacific region in particular is experiencing unprecedented levels of air traffic growth. This is great news for New Zealand which benefits from greater tourism and trade over the long term."
International growth was largely driven by flights to and from Asia, with an additional 87 flights per week arriving from the region compared to a year ago.
Domestic growth was boosted by airline JetStar's regional expansion and the replacement of Air New Zealand's Beech 1900 fleet with heavier aircraft.
Airways said delays in flights had also lessened during the past decade.
It recorded the average delay between flight take-off and landings to be three-and-a-half minutes in 2007, which had now been reduced to 20 seconds.
Air traffic volumes are based on a combination of the number of aircraft movements, aircraft weights and distances flown.