More social housing for Auckland

NZ Newswire
22/11/2016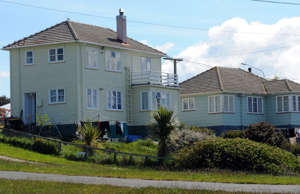 © SNPA The government will build 120 new social housing apartments on land bought from the New Zealand Transport Agency in May. A complex of 120 social housing apartments will be built on surplus Crown and Housing New Zealand land in Auckland.
The apartments, a variety of one, two and three-bedrooms, will be built as part of a development agreement between Housing New Zealand and developers Ngai Tai ki Tamaki and Gemscott Resources, the government says.
Social Housing Minsiter Paula Bennett said the land was under-utilised and 20 existing units on the site were coming to the end of their life.
The Ministry of Business, Innovation and Employment bought the land from the New Zealand Transport Agency earlier this year, according to Housing Minister Nick Smith.
"This site is a Special Housing Area, enabling fast-tracked development approval, it is part of the Crown Land Housing Programme and is also being financially supported by the significant additional investment in social housing," Dr Smith said.
Negotiations on commercial terms for the development are continuing, and a final agreement is expected to be in place by March next year.