More to Melbourne than Jackson: Henare

NZ Newswire
6/10/2016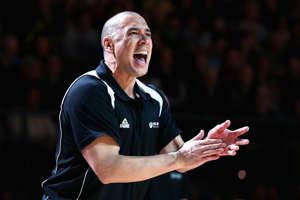 Melbourne United are far too talented across the court for the Breakers to obsess about star point guard Cedric Jackson, according to coach Paul Henare.
Jackson, 30, spent a fruitful five years with the Auckland-based Australian NBL side, collecting three titles in the process.
He will return to Kiwi soil with his new side on Friday to take on the Breakers, who have struggled under the weight of an injury crisis in pre-season.
Henare told reporters on Thursday that Jackson was a class player and would need to be kept in check, but not at the expense of his United teammates.
Melbourne have Olympians Chris Goulding and Dave Andersen - who last played in the NBL in 1999 - on their books, as well as exciting young centre Majok Majok.
"They're too well balanced and too talented to worry about one guy," Henare said.
"He's a huge part of their team and someone we'll focus on, but they've got so many other guys we'll have to focus on."
The New Mexico-born Jackson was a favourite at Vector Arena in his time with the Breakers and told reporters his return would be an emotional one.
He and fellow Breaker-turned-United power forward Tai Wesley were unsure what type of reception they would receive.
"I know pretty much everyone on the team and the fans, the chemistry I have with them," Jackson said.
"Tai and I were talking about it and we hope it's going to be a great one, because we love the fans and business is business."
Henare a said he had a full squad to select from for Friday night's match, with the exception of long-term absentee Shea Ili.
New point guard Ben Woodside, brought in to replace Jackson, had come through a heel issue and was ready to play, while Tom Abercrombie, Corey Webster and Kirk Penney would also lace up after overcoming various niggles.