MPI turns away dirty vessel

NZ Newswire
6/03/2017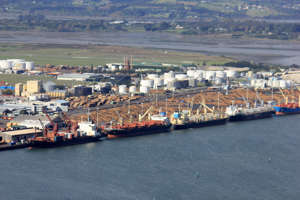 © Getty Images Port of Tauranga, New Zealand A shipping vessel from Indonesia has been ordered to leave New Zealand waters after it was deemed to be too dirty.
The Ministry of Primary Industries made the DL Marigold, which arrived in Tauranga on March 4, leave within 24 hours on Sunday.
It was to stay in New Zealand waters for nine days, but was found to have barnacles and tube worms on the hull by MPI divers.
"The longer the vessel stayed in New Zealand, the greater chance there was for unwanted marine species to spawn or break away from the ship. So we had to act quickly," says Steve Gilbert, MPI's Border Clearance Director.
The vessel will go to Fiji for cleaning and is due to return to New Zealand to finish discharging a shipment of palm kernel expeller.
We've turned a dirty ship away from Tauranga. Severe biofouling must be cleaned before they can returnhttps://t.co/fEVzfZZYfF #biosecurity pic.twitter.com/bZaVJ4RLLg

— Primary Industries (@MPI_NZ) March 6, 2017