Mum wants kids to cycle on footpaths

NZ Newswire
30/06/2016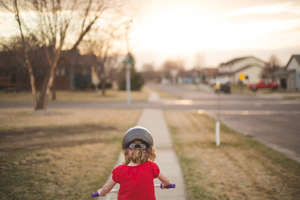 © Annie Otzen/Moment/Getty Images Mum wants kids to cycle on footpaths A Lower Hutt mum wants MPs to consider changing the law so kids under the age of 14 are allowed to cycle on footpaths.
Jo Clendon has petitioned parliament calling for a rethink of the rules because her children, who are aged six and nine, aren't ready to ride their bikes on the road.
"I don't want to choose between keeping them safe and breaking the law," she told parliament's transport and industrial relations select committee on Thursday.
At the moment it's illegal, even for children, to cycle on footpaths.
But Ms Clendon says children need somewhere to develop their cycling skills until they're ready take to the road.
"Kids need a margin for error, a buffer zone, they need separation from traffic," she said.
"On the road loss of focus, a wobble, or bad judgment can quickly become a serious mistake with grave risk of injury or death."
It's legal in all Australian states for children under 12 to ride their bikes on the footpath.
Questioned by Labour MP Sue Moroney about safety issues around driveways, Ms Clendon said data from Queensland - which has a similar population to New Zealand - showed kids were more likely to injure themselves on bikes without anyone else involved.
Ms Clendon pointed out that cars coming out of driveways tend to be going at a slower speed, but acknowledged that doesn't eliminate all of the risks and children do need to be educated about the dangers.
She wants children to understand that "active transport", like cycling or walking, is an option and people don't always have to get around in their cars.
More than half of all children are driven to school and Ms Clendon says 20 to 40 per cent of peak morning traffic congestion can be attributed to the school run.