Murray at ease with retirement decision

NZ Newswire
6/05/2017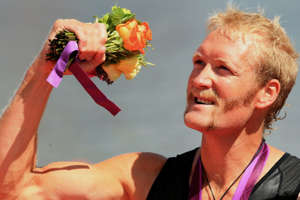 © Getty Images A file image of Eric Murray. Kiwi Olympic champion Eric Murray says he's completely at peace with his decision to call time on a stellar international rowing career.
The 35-year-old won back-to-back Olympic gold medals with Hamish Bond in the men's coxless pair in London and Rio, key planks in the duo's seven-year unbeaten run.
They also won seven world championship titles as a pair, an additional one as part of a coxless four, and two Supreme Halberg awards.
The Cambridge-based Murray admitted the idea of competing in Tokyo in three years' time had crossed his mind, but felt his desire was no longer strong enough to carry on.
"There is a lot more going on in life for me," Murray said, whose six-year-old son Zac suffers from autism.
"I didn't think I was going to be 100 per cent committed to rowing and anyone in elite sport will tell you (that) if you're not, it's very difficult to try and compete or be the best in the world.
"Family was the biggest thing, as my son needs more attention, and any high-performance sport is pretty selfish - I didn't want to have his development hampered by me not being around."
Murray said he could now look back with satisfaction on his achievements with Bond, having faced each race on its own merits.
He admitted that the partnership, one of the most enduring and successful in the history of sport, was unlikely to be repeated.
"Now we can see why everyone made a big deal about it," Murray said.
Murray also said he was keen to remain part of the sport, and has been in talks with Rowing New Zealand about staying on as a mentor.
"They've supported me in everything I've ever done" he said.
"I enjoy sharing my knowledge, of what I've done to achieve greatness, so I would love to give that back."