Murray McCully to leave politics

NZ Newswire
15/12/2016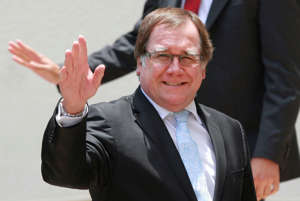 © AP Photo/Majdi Mohammed Foreign Minister Murray McCully has announced he will not stand for re-election in next year's general election. Foreign Minister Murray McCully will leave politics at the 2017 election.
The National MP announced in February that he would not contest his East Coast Bays electorate, which he has held since 1987, but revealed on Thursday that he would not seek a list position either.
The decision comes ahead of Prime Minsiter Bill English announcing his new-look Cabinet on Sunday.
"I feel greatly privileged to have had a unique partnership with John Key in managing New Zealand's foreign policy interests for over eight years," Mr McCully said in a statement.
"I can look back on some significant foreign policy achievements, including New Zealand's election to the United Nations Security Council, where I am currently attending my final meetings in New York prior to the conclusion of our term at the end of December."
Mr McCully said Mr Engilsh had his "complete support" and wanted to ensure a smooth transition for international relationships through the leadership transition.
"How I might best contribute to that process is a matter for the Prime Minister," he said.