MusiXmatch's Chrome Browser "Hack" Adds Song Lyric Captions To YouTube Music Videos

TechCrunch
16/04/2014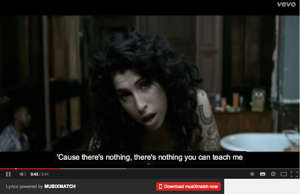 Ever wanted to sing along to music videos on YouTube but don't know the words? A new from has you covered. The result of one of the Italy/UK-based company's internal Friday "hack" days, the web browser add-on overlays song lyrics onto any YouTube videos it matches to its licensed song lyric database.
You simply install the extension, browse YouTube for music videos and, if you see the MusixMatch button, switch on captions. After which lyrics pop up over the video in karaoke-style.
The only caveat is that MusixMatch is doing the matching largely based on the music video's title, so if it differs from its official name then it doesn't always work. Since the company has lyrics to most songs — MusixMatch claims to be the largest licensed database — I'm told it's something they are working on to fix.
The back story to this is also interesting. Apparently the company previously had a partnership with music video distributor VEVO but this fizzled out as VEVO didn't like having song lyrics displayed, despite the popularity of sing-along captions. After brainstorming during a Friday "hack" day, MusixMatch decided that building a Chrome extension for YouTube was the best solution, essentially bypassing the need to "ask for permission".
That's not to say song writers and publishers don't get compensated, they do, since the company has existing deals in place to share revenue generated across all of its apps, which include iOS, Android, WP8, desktop Mac, W8, and Spotify, as well its API.
I'm also told that MusixMatch is working on a version that works with — Google's PC-to-TV dongle — offering a way to beam those YouTube videos and lyric overlays to the television. This would build on an in the form of support for Apple's AirPlay that enables its iPhone app to send song lyrics to an AppleTV in sync with the song you are listening to, thus creating a karaoke screen experience.
The company also recently ventured into the hardware game via a partnership with IK Multimedia to sell a for its iOS app.