`My tax affairs are totally clean': Key

NZ Newswire
11/04/2016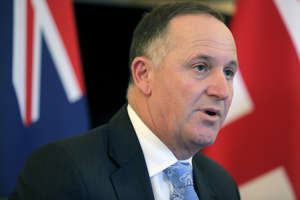 Iceland's prime minister resigned over the Panama Papers and Britain's David Cameron has been forced to publish his tax returns, but John Key insists he's squeaky clean.
"I've never used a foreign trust," he said at his post-cabinet press conference.
"I am totally, 100 per cent confident that my tax affairs are absolutely above board and totally clean."
The Panama Papers - 11.5 million documents leaked from a company that sets up foreign trusts for wealthy clients - revealed the existence of 204,000 trusts in more than 200 countries.
There are legitimate reasons for having them but they can be used for tax avoidance and money laundering.
The information is still being released, and Mr Key says New Zealanders could be outed.
"Inevitably, there will always be some people who try to beat the system ... I suspect there will be people who may well have done it," he said.
"I don't have anything to back that up, I don't have any tax information."
Mr Key says Kiwis have to register a foreign trust if they set one up.
"If anyone is cheating the system, that may well come into the public domain and I'm sure IRD would be very interested."