Mystics coach Debbie Fuller to stand aside

NZ Newswire
7/06/2016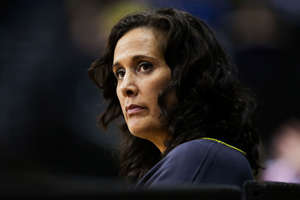 © Hagen Hopkins/Getty Images Debbie Fuller Northern Mystics coach Debbie Fuller will step down at the end of the trans-Tasman league season following her fourth season in charge.
Former Silver Ferns defender Fuller has been involved with the Mystics since 2009 and believes the time is right for the Auckland-based side to hear a new voice when the competition structure changes next year. It will split from the Australian teams and revert to a six-team domestic championship.
"Making this decision now gives the board time to get the Mystics house in order early for 2017," Fuller said in a statement.
Fuller began as an assistant to Te Aroha Keenan for two seasons before stepping into the head coach role in 2011.
She took them to the grand final that year and finished third in 2012. She took a season off for family reasons before returning in 2014, when the Mystics again reached the semi-finals.
They are struggling this year, placed third in the New Zealand conference with two wins from 10 games.
They lost on Monday to second-placed Waikato Bay of Plenty Magic, who sit three points above them in the race for a second Kiwi play-off spot.
Northern Zone chairwoman Dianne McAteer acknowledged Fuller's contribution.
"Debbie has been the most successful coach this franchise has seen and she's given enormously to netball in this region," McAteer said.
"We have big changes to deal with next season and by giving us the chance to make decisions early, Debbie has again acted with the team-first attitude she always has."