NASA's Sofia returns to Christchurch

NZ Newswire
23/06/2017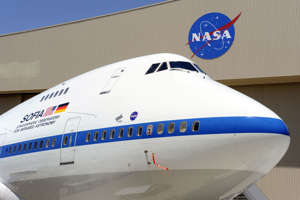 The world's largest flying observatory is back in New Zealand to study star formations in the Southern Hemisphere.
The California-based Stratospheric Observatory for Infrared Astronomy (Sofia) arrived in Christchurch on Friday, where it will be based for about seven weeks, according to tweets from NASA.
The Boeing jetliner with a telescope on board has been in the South Island city for several seasons of night-flying missions.
Its crew of scientists, astronomers, mechanics and technicians use the US National Science Foundation's Antarctic Programme facility at Christchurch International Airport.
Sofia carries a 2.5m telescope inside a Boeing 747SP jetliner to observe the cosmos at infrared wavelengths.
These observations are not possible from the ground, because water vapour in earth's atmosphere absorbs almost all the infrared light before it reaches the ground's surface.
Sofia flies above most of this water vapour and carries some of the world's most powerful instruments not currently available on space-based observatories.