National eyes Labour's Hutt South seat

NZ Newswire
30/08/2016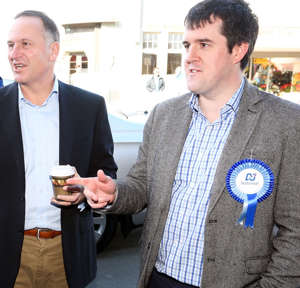 © Hagen Hopkins/Getty Images Prime Minister John Key talks to Hutt South candidate Chris Bishop National has high hopes of taking the Hutt South seat away from Labour in next year's election, and campaigning has started early.
Prime Minister John Key was out and about in Lower Hutt on Tuesday with National's candidate, list MP Chris Bishop.
Mr Bishop stood in the 2014 election and cut the long-serving Trevor Mallard's majority to 709 votes.
Mr Mallard isn't going to stand again and will be a list candidate in next year's election, hoping to become parliament's Speaker if there's a change of government.
"I think there's every chance Chris is going to win the seat," Mr Key told reporters.
"I think that's one of the reasons Trevor Mallard has waved the white flag - he also thinks Chris is going to win the seat."
The reason for National's optimism is that Mr Mallard was a popular MP, and now Labour has to put up a new candidate.
And although Mr Mallard held the seat in 2014, the party vote was strongly in National's favour - 17,648 to 10,903.