Nats hold annual conference

NZ Newswire
1/07/2016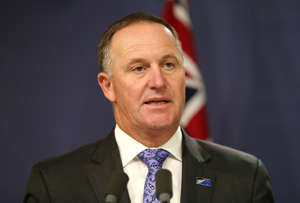 © AAP/DAVID MOIR Prime Minister John Key The National Party is about to kick off its 80th annual conference with a full cast of cabinet ministers and more than 500 delegates.
It's a mid-term conference with next year's election looming.
Prime Minister John Key says he know how hard winning a fourth term is going to be.
"Even though our numbers are pretty close to 50 per cent, the reality is that the coalition of the unwilling is quite a big number," he told reporters.
"Labour, the Greens and NZ First could potentially tip over a National-led government - and we know that with every election it gets harder to win."
The conference opens on Saturday and Mr Key speaks on Sunday.
He'll review the work the government has done over the past 12 months, discuss its plans for the next 12 and release a new policy.
Finance Minister Bill English and Economic Development Minister Steven Joyce will be on stage for a question and answer session on the economy.
The housing shortage is one of the most serious issues facing the government and delegates will have their say about that.
Building and Housing Minister Nick Smith will be in the hot seat, alongside Social Housing Minister Paula Bennett.
Gerry Brownlee, the minister responsible for the Christchurch rebuild, will speak to the conference and take questions from delegates.
Police Minister Judith Collins will handle law and order issues.
There will be an 80th birthday party for National, with everyone there knowing the 81st is going to be crunch time.