Navy to monitor fishing in Ross Sea

NZ Newswire
25/11/2016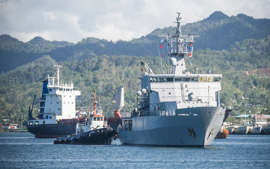 © New Zealand Defence Force The HMNZS Wellington in Fiji. A Navy ship is going to the Ross Sea to look out for illegal fishing during the annual season.
HMNZS Wellington leaves Dunedin on Sunday.
"New Zealand is working closely with international partners to stamp out illegal fishing," said Defence Minister Gerry Brownlee.
"We have been conducting marfitime surveillance in the Southern Ocean using ships since the late 1990s, and offshore patrol vessel HMNZS Wellington is fully prepared for work in these extremely challenging waters."
An air force Orion surveillance aircraft will also be deployed.
Foreign Minister Murray McCully says the government takes conservation in the Southern Ocean very seriously.
"This will be even more important when the Ross Sea region Marine Protected Area comes into force in December next year," he said.
"New Zealand played a leading role in bringing the protected area into force and our work to patrol the Southern Ocean demonstrates our commitment to protecting this pristine natural environment."