Neesham wants to return to natural game

NZ Newswire
13/09/2016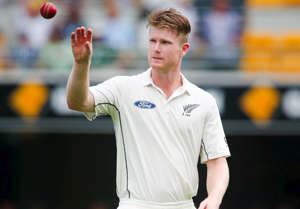 © Reuters Batting allrounder Jimmy Neesham wants to return to his more freewheeling ways as he prepares to resume his Black Caps cricket career.
Neesham was recalled for the upcoming Test series in India, having last represented New Zealand last November.
He played in the opening Test against Australia in Brisbane, but a back injury led to him missing the rest of the international summer.
He made his comeback with Otago and then played Twenty20 cricket for English county Derbyshire.
Neesham says he has made minor tweaks to his game since he was last with the Black Caps, just as anyone would over a period of 10 months.
But what he's essentially wanting to do is return to his natural game.
"I'm basically looking to go back to how I played when I first came into international cricket - I was a bit more carefree and laissez-faire, especially with batting," he said.
"Once you start feeling the pressure of international cricket and wanting results and wanting runs, it can curb your game a little bit, which I think is one of the traps I fell into."
Neesham, who turns 26 on Saturday on the second day of the Black Caps' three-day warm-up fixture against Mumbai in Delhi, made his international debut in T20 in late 2012.
The first of his nine Tests came against India in Wellington in February 2014 and it proved a memorable occasion.
He scored his career-best 137 not out and watched skipper Brendon McCullum at the other end become the first New Zealander to achieve a Test triple ton.
Neesham admits there were a few butterflies after he got the call that he was back in the Black Caps squad.
"It's a pretty long road since November last year," he said.
"My main aim is just to reintegrate myself into the group, get used to the lads and let them get used to me again."