Nelson Mail to potentially cut print days

NZ Newswire
15/05/2017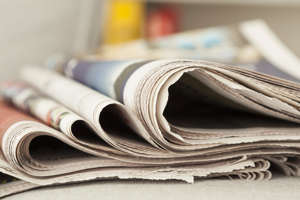 The Nelson Mail could shortly go the way of its neighbour the Marlborough Express and be printed three days a week.
Fairfax Media announced on Monday a desire for feedback from the Nelson community about "developing a new publishing model" in the region.
The Nelson Mail, established in 1866 and with a circulation of more than 14,100, could go to three or four days a week and be complemented by an online daily newsletter, community newspapers in the region, and the Stuff website, Fairfax Media group executive editor Sinead Boucher says.
She said Fairfax have been open about the need to change its business model to reflect the way people get their news, and in response to falling newspaper revenue.
It's not a decision made lightly, Ms Boucher said.
"The changes are about sustaining the Nelson Mail's presence.
"We've taken learnings from Marlborough, where the feedback received from the community was vital in shaping a solution that worked for the region.
"We hope the same will come from feedback on our Nelson model."
Printing the Nelson Mail will move to Christchurch and the Nelson print plant will cease operating from June 29.
On May 3 the Commerce Commission denied a merger between New Zealand media companies Fairfax and NZME, who between them own 90 per cent of the country's daily newspaper titles.
Fairfax boss Andrew Boyle said at the time that changes in the Marlborough region, to the Express and now likely at the Mail, reflected that "tough decisions will have to be made in terms on ensuring [our] ongoing viability".
Four editorial jobs were lost at the Express when it changed to printing three days a week and more of an online focus.