New NZ base opens for special forces

NZ Newswire
8/04/2016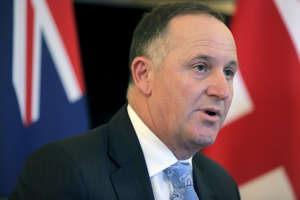 © Reuters/JOSHUA ROBERTS John Key New Zealand's elite soldiers have a new base to play with all their toys.

The $46 million Special Operations Battle Training Facility was opened by Prime Minister John Key along with Minister of Defence Gerry Brownlee and Chief of Defence Force, Lieutenant General Tim Keating on Friday.
The new base will replace the more than 30-year-old obsolete training facility in Papakura, Auckland.
It will be used for all-weather training, live firing exercises, use of helicopters as well as scenario specific drills in environments such as aircraft fuselages, ship bridges, and public transport.
At previous facilities, SAS soldiers weren't able to fire their standard-issue rifle or use other weaponry.
Lieutenant General Tim Keating says while the base will be primarily used by New Zealand's elite troops, it will be available for use by other agencies with a security role like the NZ Police Special Tactics Group.
"As a Defence Force our primary role is to protect our nation therefore we need to be equipped to succeed," Lt Gen Keating said.
"Security threats have become more complex, so it's vital the NZDF have modern facilities to train SAS personnel who are required to operate in high risk and complex environments."
A simulation system has also been installed.