New Zealand Crown limos up for sale

NZ Newswire
19/04/2016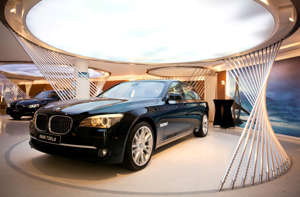 © Balint Porneczi/Bloomberg New Zealand Crown limos up for sale The Crown limousines are up for sale, but the government wants more than just someone to chauffeur them.
The long-wheel base BMW 730 diesels used as part of the Crown VIP fleet will be sold through the Turners auction house after an online tender was opened on Monday.
"We expect higher buyer interest, and importantly, value for the taxpayer by gaining the best return," Internal Affairs VIP Transport manager Harley Spence said on Tuesday.
The 32 BMWs were used to ferry Prime Minister John Key, government ministers, the opposition leader as well as foreign dignitaries, including heads of state during their time in New Zealand.
Each car has between 69,000 and 150,000 kilometres on the clock and has automatic transmission.
A new fleet of BMW VIP vehicles have been progressively introduced since December last year.