New Zealand Feels the Bern

The Atlantic
29/02/2016
Dixville Notch, Hart's Location, and Millsfield, three New Hampshire towns, zealously guard their traditions as the first places to vote in that state's primary—which, in another zealously guarded tradition, is the nation's first. The few residents of the tiny towns come out to vote at midnight every four years.
But who votes first on Super Tuesday? Democrats in New Zealand get to claim that honour, casting votes 24 hours before March 1 even starts in the US, thanks to the international date line.
Just like their Dixville Notch countrymen, the Americans in New Zealand cast votes at midnight, meeting at a pub in Wellington.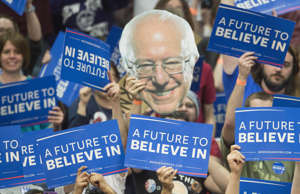 © Austin Humphreys/The Coloradoan via USA TODAY NETWORK Supporters cheer for Democratic presidential hopeful Bernie Sanders during a campaign rally at Colorado State University. Bernie Sanders came out way on top, with 21 votes to Hillary Clinton's six.
One voter spoiled his or her ballot, and you have to imagine in a group that small, people knew who the dummy was.