New Zealand's NZX 50 rises to record

NZ Newswire
19/04/2016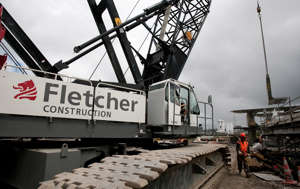 © Brendon O'Hagan/Bloomberg Fletchers Engineering New Zealand shares rose to a record amid speculation Z Energy's application to buy the Caltex chain will be approved.
Sky Network Television and Fletcher Building also rose while SkyCity Entertainment Group dropped.
The S&P/NZX 50 Index gained 21.8 points, or 0.3 per cent, to 6,873.04. Within the index, 24 stocks rose, 16 fell and nine were unchanged. Turnover was $171.8 million.
Z Energy led the index, gaining 3.7 per cent to $7.08. The Commerce Commission's decision on whether to approve Z Energy's application to buy Chevron New Zealand's service station chain is due on April 29, having been delayed multiple times.
Z Energy wants to buy the Caltex and Challenge! branded chains from Chevron New Zealand, giving it 49 per cent of the retail market. The length of time has stoked some speculation they might have to divest certain assets to get it over the line.
"Most people I speak to believe they will get approval, but the conditions are unknown," said Rickey Ward, New Zealand equity manager at JBWere.
"Given it's taken such a long time from when the acquisition was first commenced to the current date, it's very hard to believe that they only have to divest four or six petrol stations. It feels like they're going to have to give up a lot more than that. What the share price is telling us is that there's a greater degree of confidence that they will be given approval."
Mighty River Power gained 2.1 per cent to $2.96.
Sky TV advanced 2 per cent to $5.03. Investors have been wary of the company as it struggles to retain subscribers with growing competition.
"It's well off its lows, but it is quite surprising - local institutions don't like it, they think the industry is evolving and changing away from it," Mr Ward said. "That share price has firmed quite nicely on good volume. I do wonder whether it's Australian investors - they are the dominant purchaser, and the story has been better received by Australian institutions than local institutions."
Australia & New Zealand Banking Group gained 1.7 per cent to $26.75.
Fletcher Building rose 1.6 per cent to $8.18.
Air New Zealand advanced 0.9 per cent to $2.885. The airline is benefiting from increased demand from tourism and low fuel prices. It fell 4.7 per cent yesterday after ASX-listed rival Qantas Airlines trimmed plans to expand capacity, a signal it saw leaner times ahead.
Steel & Tube Holdings was the worst performer, down 1.7 per cent to $2.28, while Xero dropped 1.7 per cent to $17.45.
SkyCity shed 1.5 per cent to $5.15. It has regained ground since the surprise resignation of its chief executive Nigel Morrison triggered a selloff.