New Zealand's riskiest jobs: the facts

NZ Newswire
27/11/2016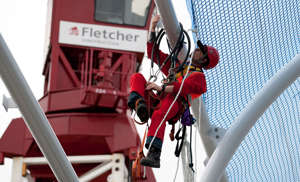 © Brendon O'Hagan/Bloomberg For every 1000 Kiwi workers, the Accident Compensation Corporation paid out 110 work-related injury claims in 2015. STATISTICS NZ HAS RELEASED A BREAKDOWN OF ITS LATEST PROVISIONAL REPORT INTO WORKPLACE INJURY CLAIMS ON MONDAY. FIND OUT WHICH OCCUPATIONS ARE NEW ZEALAND'S RISKIEST.
* The overall rate of work-related injury claims in New Zealand in 2015 was 110 claims made for every 1000 full time employees.
* This amounted to 230,200 claims made to the Accident Compensation Corporation. Thirty one thousand of these were for serious injuries.
* Cleaners, rubbish collectors, couriers and labourers were among a category of workers making 238 claims per 1000 employees in 2015. This was the highest rate of claims among any category of workers.
* Agriculture, forestry and fishery workers had the second highest rate of claims, after falling from 242 claims for every 1000 workers in 2014 to 233 per 1000 in 2015.
* The fishing, transport, postal and warehouse industries had the highest numbers of serious injuries, accounting for 21 per cent of all claims made by these occupations.
* Males accounted for 92 per cent of all fatal work-related injury claims.
* Workers aged 15 to 24 years and workers aged 65 years and over had the highest claim rates across all age groups.
* The total number of claims has been steadily decreasing since 2005, but increasing slightly each year since 2012.
* From 2002 to 2012 the rate of injury claims fell each year from 158 claims per 1000 workers in 2002 to 111 in 2012. However, the rate of claims has remained steady since 2012.
* Agriculture, forestry and fishery workers and those in occupations, such as rubbish collecting, cleaning and labouring have consistently had the two highest claim rates since 2002. Just under one quarter of workers in these occupations made a work-related claim in 2015.