NFL teams like look of Kiwi Taumalolo

NZ Newswire
23/11/2016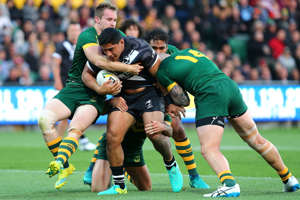 © Getty Images Jason Taumalolo of New Zealand pushes forward during the International Rugby League Test match between the Australian Kangaroos and the New Zealand Kiwis at nib Stadium on October 15, 2016 in Perth, Australia. At least 16 NFL clubs are sending scouts to watch NRL stars Jason Taumalolo and Valentine Holmes work out in Los Angeles.
The San Francisco 49ers are among a group of clubs to have indicated they will attend Saturday's closed door session near the University of Southern California campus.
"At this point I've heard from more than half the league," Jeff Foster, president of National Football Scouting that is organising the workout, told AAP.
Jarryd Hayne's hot and cold season with the 49ers last year obviously did not dampen the team's interest in physically elite but NFL-raw rugby league players.
Foster said New Zealand international forward Taumalolo, 23, and Kangaroos winger Holmes, 21, will be weighed and measured before undergoing tests of fitness and athleticism.
That will be followed by position-specific drills.
"They are ball handlers first so we'll determine what positions in rugby translate to what positions in the NFL," Foster said.
"Just based off size and the physical nature of them, we will likely look at safety and outside linebacker positions."
The pair flew from London to LA immediately after playing against each other in the Four Nations final in England.
Taumalolo and Holmes are contracted to their NRL clubs until the end of the 2017 season so interested NFL teams may have to wait a year before they move to the US.