Ngaro admits comments were `ill-informed'

NZ Newswire
24/05/2017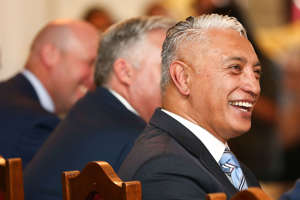 Cabinet minister Alfred Ngaro has admitted in parliament that his claim the media were manufacturing the housing crisis were "ill-informed" and he regrets saying it.
Mr Ngaro was under the gun at question time for the second straight day on Wednesday as Labour raked over his controversial comments.
He told a National Party conference the weekend before last organisations which bagged National on the campaign trail could expect their funding to be cut, and blamed the media for manufacturing the housing crisis.
Labour's Carmel Sepuloni asked him on Wednesday: "Why did he say that the media were manufacturing a crisis with reference to the housing issues we are facing as a country?"
Mr Ngaro twice tried to reply by saying he had apologised for his comments, but with Speaker David Carter's support Ms Sepuloni pressed on.
On the third go, Mr Ngaro said: I regret the comments that I have made. I made them ill-informed. I regret those comments, and I do apologise for them."