Ngaro comments on critics 'misjudged': PM

NZ Newswire
15/05/2017
But he doesn't believe his decision to promote the second term MP to cabinet last December was made too soon.
At a National Party convention on the weekend Mr Ngaro made a presentation laced with political menace against those who questioned National's performance on housing, Newsroom reported.
He hinted Labour list candidate Willie Jackson could lose support for his interest in a second charter school if he bagged National on the campaign.
"We are not happy about people taking with one hand and throwing with the other," he said.
"If you get up on the campaign trail and start bagging us, then all the things you are doing are off the table. They will not happen."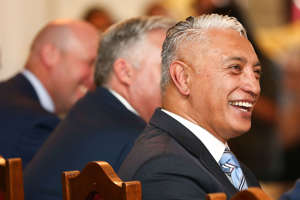 © Hagen Hopkins/Getty Images Alfred Ngaro. Mr Ngaro has apologised to cabinet but did not offer his resignation, Mr English said on Monday.
"I'd say he just misjudged it. Some of it was wrong ... and otherwise it's just a minister learning how this government operates," he said.
All decisions made by the associate housing minister will be reviewed by the Department of Prime Minister and Cabinet, but Mr English said Mr Ngaro had not been involved in any funding decisions.
He said organisations with government contracts have "no reason" to feel threatened should they speak out against the National Party, believing the party to be "pretty relaxed" about dealing with those who disagree with some or all aspects of government policy.