Ngaro grilled over funding threat

NZ Newswire
23/05/2017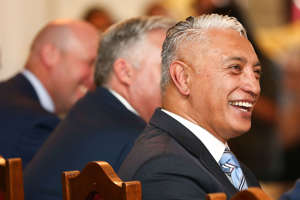 Cabinet Minister Alfred Ngaro has been grilled in parliament over his threat to deny funding to organisations that criticise the government during the election campaign.
Mr Ngaro made the comments at a National Party conference the weekend before last, and has since apologised.
But Labour isn't letting him off the hook and used question time in the House on Tuesday to throw his comments back at him.
Labour's Poto Williams asked him: "Did he have any particular organisations in mind when he stated: `Do not play politics with us. If you get up on the hustings and start bagging us, then all the things you are doing are off the table. They will not happen'."
Ms Williams wanted to know which organisations he had been talking about, but all Mr Ngaro would do was repeat his apology.
"My comments were wrong. That's not the way the government works. I have apologised," he said.
Labour MPs tried to force him to answer detailed questions, including why he had said what he did, but Mr Ngaro simply said he had already apologised.
Mr Ngaro is the minister responsible for the voluntary sector, and after he made the comments Prime Minister Bill English let him know how wrong he had been to suggest funding depended on political attitudes.
Mr Ngaro didn't offer his resignation, and Mr English says there was no need for that.
"He's a competent minister doing a good job," he told reporters on Tuesday.
"He has a good set of relationships... despite the fact that the comments were made the community sector has been broadly supportive of him."
Mr English said Mr Ngaro had since talked to voluntary organisations.
"It'll probably have some short impact but he's someone whom the sector recognises from his own work before he came into parliament."