NHK says 9 bodies found at a nursing home flooded by heavy rain left by powerful storm in northern Japan

Associated Press
31/08/2016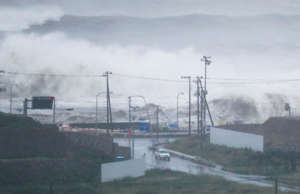 © Reuters High waves triggered by Typhoon Lionrock crash on a coast of the city of Ishinomaki on August 30. NHK says nine bodies have been found at a nursing home flooded by heavy rain left by powerful storm in northern Japan.

The Japanese national broadcaster said the bodies were found Wednesday morning in Iwaizumi town, where police were investigating the flooding at another facility.
The storm made a landfall Tuesday night in the region, triggering mudslides, damaging buildings, roads and bridges, while paralyzing traffic and causing blackouts.
The northern region was still recovering from the damage caused by the 2011 tsunami and earthquakes.