Nick Smith 'the million dollar minister'

NZ Newswire
6/09/2016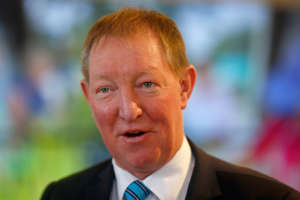 Building and Housing Minister Nick Smith had to put up with opposition taunts as he pushed a bill through parliament to extend the legislation around SHAs.
The government is pushing a bill through parliament under urgency to extend the legislation that created special housing areas by another three years.

It's necessary because more time is needed to rezone eight of Auckland's SHAs and the city's Unitary Plan comes into force in 16 days.
Without the bill, the SHAs would lapse in 10 days and the process of creating them would have to start all over again.
Building and Housing Minister Nick Smith opened debate on his bill and said the SHAs had the capacity for 3180 new homes.
He challenged opposition parties to support the bill, but most of them used the debate to trash the government's housing policy and point out that the average Auckland house price had just passed the $1 million mark.
"Nick Smith is the million dollar minister," said Labour's Grant Robertson.
His party leader, Andrew Little, said the government's housing policy was a shambles.
"Everything Nick Smith has done has turned to custard."
Labour's Carmel Sepuloni said Dr Smith was "the worst housing minister New Zealand has ever had".
The omnibus bill also carries provisions that will make it more difficult to hold land without develop it - called land banking - in SHAs.
SHAs allow the fast-tracking of building consents, and the bill requires to file consent applications within 12 months or lose their fast-track rights.
Opposition parties say that doesn't go far enough.
The bill also makes sure that surplus state-owned land sold for property development doesn't have to be offered back to its original owner.
Dr Smith says the Building Act never intended that it should be, but the provisions were unclear.
Opposition MPs said that part of the bill shouldn't be rammed through under urgency because it needed careful consideration.
Labour, the Greens, NZ First and the Maori Party are opposing the bill.
It passed its first reading 61-60 and was due to go through all its stages by late Tuesday night or Wednesday morning.