No 10: 'Explosive Device' May Have Downed Plane

Sky News
4/11/2015
The Russian jet that crashed in Egypt "may well have been brought down by an explosive device", Downing Street has said.
The Metrojet plane, which was en-route from Sharm el Sheik to the Russian city of St Petersburg, crashed in Egypt's Sinai Peninsula on Saturday, killing all 224 people on board.
The nature of the crash and the lack of an SOS have led to speculation that the jet was brought down by a bomb or a missile.
The UK Government said in a statement that while it cannot "categorically" say why the plane crashed, "as more information has come to light we have become concerned that the plane may well have been brought down by an explosive device".
As a result, a spokeswoman said all flights due to leave Sharm el Sheikh for Britain this evening will be delayed as a "precautionary measure" to allow a team of UK experts to assess what security arrangements are in place at the airport.
This assessment is expected to be completed tonight, the Number 10 spokeswoman said, adding there were no more departures from the UK to Sharm el Sheikh on Wednesday.
"We would underline that this is a precautionary step and we are working closely with the airlines on this approach," she added.
Extra consular staff will be on hand at the airport to work with airlines to help British holidaymakers, the Government said.
For those who are in Sharm el Sheikh or planning a holiday there in the coming days, the advice is to contact your airline or tour operator.
At this stage the Government's level of travel advice for Egypt remains unchanged.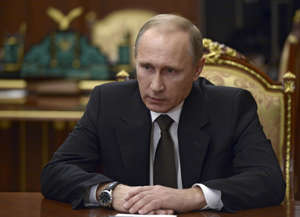 Prime Minister David Cameron will also chair a meeting of the Government's COBRA emergency committee later on Wednesday to review the situation.
Mr Cameron spoke to Egyptian President Abdel Fattah al Sisi on Tuesday night to talk about security measures at the popular resort's airport.
Sky's Foreign Affairs Editor Sam Kiley said: "It's very unusual to take this sort of action if it's not based on active and new intelligence."
He added: "It's almost a certainty that this is based on active intelligence that the aircraft was most probably at this stage in the investigation destroyed by some sort of explosive device."
A security source told Sky's Defence Correspondent Alistair Bunkall that the intelligence that prompted the Government to take this decision did not come from the wreckage of the plane.
Investigators are studying sand from the crash site for signs of a bomb attack, a source close to the Egyptian team studying the black boxes told Reuters.
The source added that the cause of the crash is looking more like an explosion, although it is unclear if it was caused by fuel or a bomb.
More follows...